How to get there?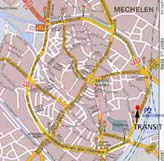 Transit Gallery lies on the Ring around Mechelen, where this ring is the closest to the railway Brussels - Antwerp, just across a large parking lot named "Zandpoortvest 2".
Coming from Brussels:
motorway to Antwerp E19, exit Mechelen Zuid, continue untill the roundabout at the central station. Follow 'centrum'. On the next traffic lights to the right. Then by the next traffic lights, straight ahead. After 300m you see the parkinglot 'Zandpoortvest 2" at your right. Park there, Transit lies across.
Coming from Antwerp:
motorway to Brussels E19, exit Mechelen Noord, keep on the right in the sharp turn! Follow "centrum" (=continuing your right turn). You'll will see the huge tower of the cathedral in front of you. On the second traffic light (Mac Donalds is on your right), straight ahead. On your left runs a small canal. Follow this canal (about 4 trafic lights), untill you see in front of you the elevated railway. Follow the ring road to the right (direction Leuven) and leave the railway on your left. (Don't turn into the city!) Transit lies now 300m further on the right. You can park in front of the gallery or across on the 'Zandpoortvest 2' parking lot.
Hoe er geraken?
Transit ligt op de stadsring rond Mechelen tussen Nekkerspoel en het kruispunt Raghenoplein (waar de baan naar Leuven start).
Komende van Antwerpen neemt u afrit Mechelen Noord, dan rechts aanhouden en rechts afslaan richting centrum. U ziet de Romboutstoren in de verte liggen. Aan de MacDonalds rechtdoor tot aan het kruispunt Nekkerspoel, daar neemt u rechts, om de ring te volgen richting Leuven. Transit ligt dan 300 meter verder op de rechterkant.
Komende van Brussel neemt u de afrit Mechelen Zuid, rij door tot aan het rond punt aan het station. Daar rijdt u rechtdoor (richting centrum). Bij de volgende lichten neemt u rechts. Aan de volgende lichten rechtdoor. Na 300m ziet u rechts de parking 'Zandpoortvest 2'. Parkeer daar, Transit ligt aan de overkant van de straat.
OPGELET: parkeren op de Zandpoortvest 2 parking is nu betalend (zie tabel hieronder voor details).
MAANDAG - VRIJDAG:
8 - 20u: langs de rijbaan: 2,50 € per uur
OF neem gratis tikket voor 15 minuten
8 - 20u: in de parking aan de overkant: 1 € per uur & 3 € voor 4 uur
ZATERDAG & ZONDAG
8 - 20u: langs de rijbaan: 2,50 € per uur
OF neem gratis tikket voor 15 minuten
in de parking aan de overkant: GRATIS
Grotere kaart weergeven